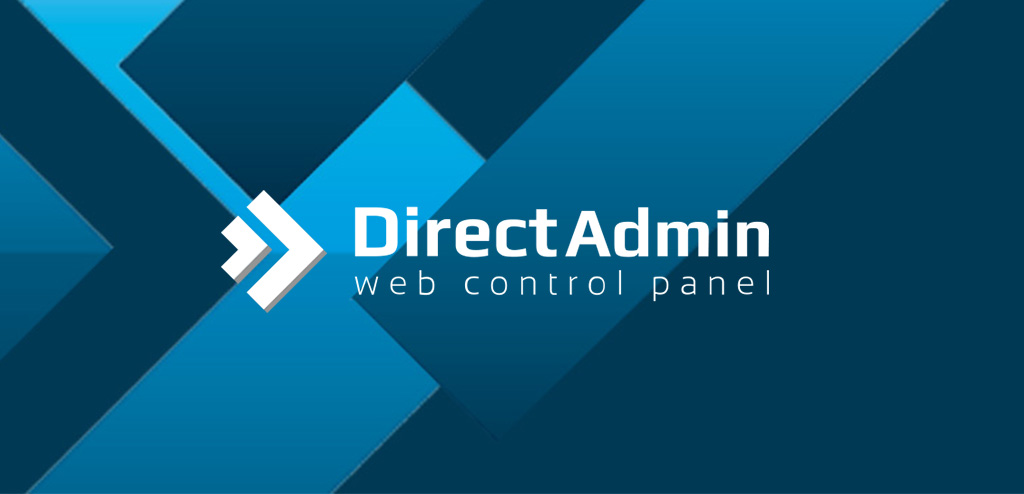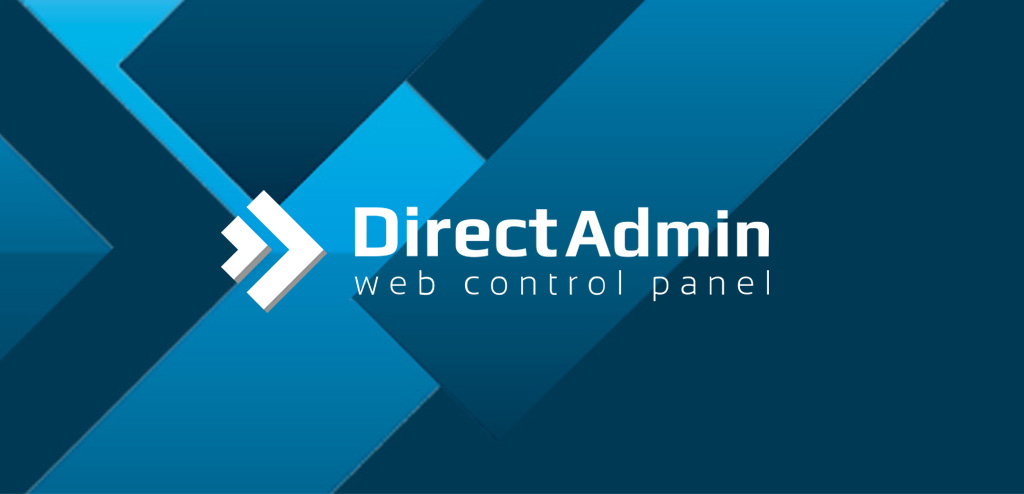 A control panel is a tool that's used to manage your hosting account. It is used to manage your purchased domain names, install applications, create and manage email accounts, upload website files, and more. You can do all of this by logging in directly to the server. However, this requires some development knowledge. Moreover, web panels are usually intuitive, simple, and help users save time.
DirectAdmin is a web hosting control panel granting administration of websites through a web browser
Most Popular Web Hosting Control Panels : cPanel & DirectAdmin
cPanel is a Linux based control panel used to conveniently manage your web hosting. The system operates similarly to a desktop application. With cPanel, you can perform actions from a user-friendly dashboard rather than running complex commands.
The greatest thing about this control panel is that it is simple and easy to work with, no matter your ability regarding to technology

DirectAdmin is a web hosting control panel granting administration of websites through a web browser. The software is configurable to enable standalone, reseller and shared web hosting from a single instance. DirectAdmin is similar to cPanel in the way that DirectAdmin can run perfectly under Linux and its major distributions, CloudLinux, CentOS, Ubuntu, Debian, Red Hat and much more. Windows based operating systems are not supported.

What are the differences between cPanel and DirectAdmin?
cPanel has a very user-friendly and interactive interface that provides you complete control over all WHM features. You can easily automate your administrative tasks through the command line and API accessibility using this panel
DirectAdmin has all the latest technology you would need to perform administrative work for effective hosting. DirectAdmin is as proficient as you'd expect a good control panel to be and allows its users the ability to tweak all the essential web hosting elements including DNS and mail.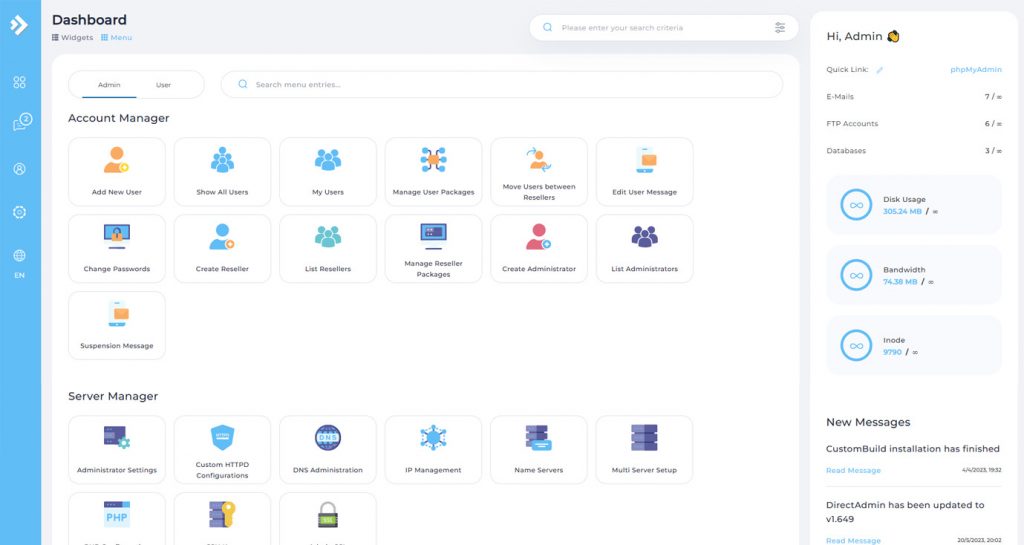 Users of DirectAdmin can also manage custom configurations for their web servers.
As far as functionality between the two is concerned, there are some similarities and differences.
Both come with a user-friendly interface and easy server configuration, but DirectAdmin hosting does not have proper command-line functions.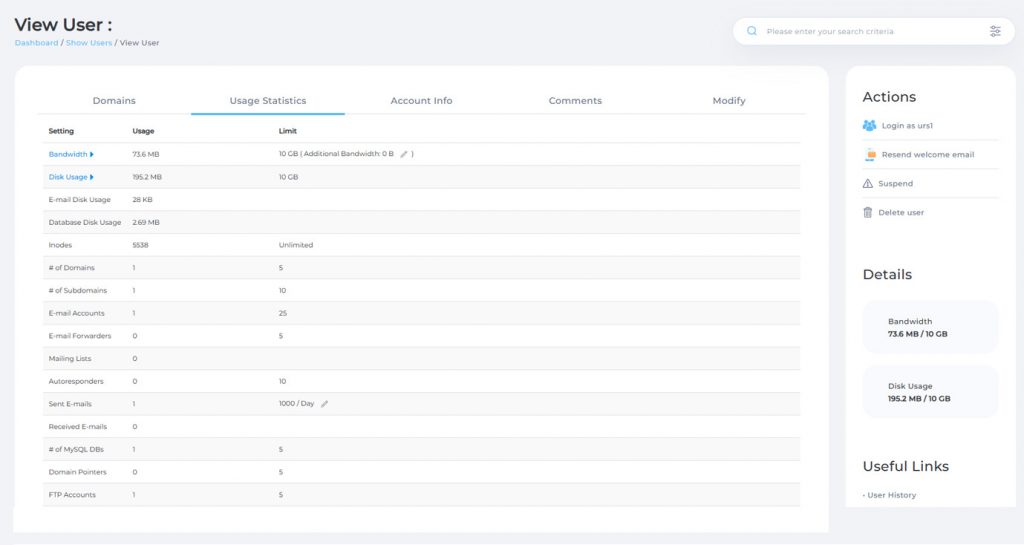 Similarly, cPanel hosting offers an interactive UI and configuration functions, but when it comes to advanced user needs (such as installing SSL certificates, viewing server information and enabling site redirection and domain pointers), DirectAdmin is a better choice.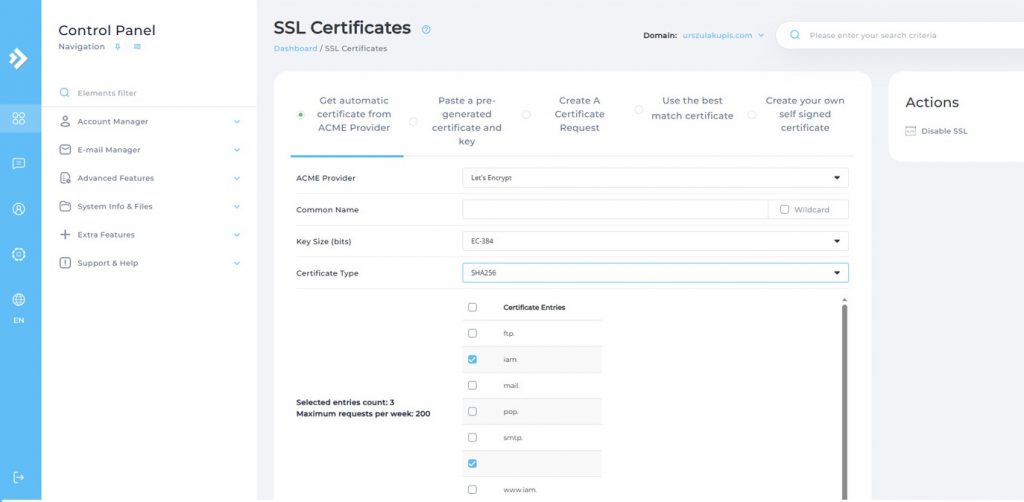 cPanel uses more disk space and storage compared to DirectAdmin. This is because cPanel comes with more features and functions. However, DirectAdmin comes with interactive designs and provides support for more features.
Advanced DirectAdmin Features:
Apache Handlers
Catch-All E-mail
Create/Restore Backups
Cron Jobs
Custom Error Pages
Mime Types
Two-Step Authentication
Password Protected Directories
SSH Keys
Git
WordPress Manager

We can extend the functions of DirectAdmin using different plugins, but the user will have to pay an added cost for those plugins.
Working with cPanel would require more disk space and memory than DirectAdmin.
Many people are more likely to choose DirectAdmin hosting because of its better pricing options.

WordPress on DirectAdmin – it's really easy!
1 – Download WordPress from their official website and save the .zip file
2 – Login to DirectAdmin
3 – From the files, select the domain in which we want to install WordPress into. Select the public_html folder
4 – Upload the WordPress .zip file. To do this, select the option to Upload files. Select the required file and click the option Upload Files. Then click go back.

5 – In the public_html folder, extract the WordPress zip file.
6 – Move up the WordPress extracted file. To do this, select it, Add to clipboard and then select Up a Level. Then we click the option Move Clipboard Files and remove the .zip file.
7 – Now WordPress is successfully installed.
Web hosting with DirectAdmin from €4.95 /month
Pricing is the most crucial aspect to consider when it comes to choosing the best control panel for your website hosting. cPanel has been a preferred choice for hosting providers who are looking for a budget friendly option, until they significantly increased their pricing since 2019. After a sudden rise in their cost and fees, many users switched to other hosting providers, such as DirectAdmin. DirectAdmin offers fewer functions, but it comes at a lower cost.
Summary
Both cPanel and DirectAdmin have their pros and cons in regards to managing hosting accounts. Their similarities and differences have been talked about in this blog post, which demonstrates the technical abilities of these control panels. Hopefully through this blog post you will be able to decide the better control panel to suit your needs and make the right purchase. If you want to order a control panel through us, please contact us at support@webworld.ie, we will be glad to help.